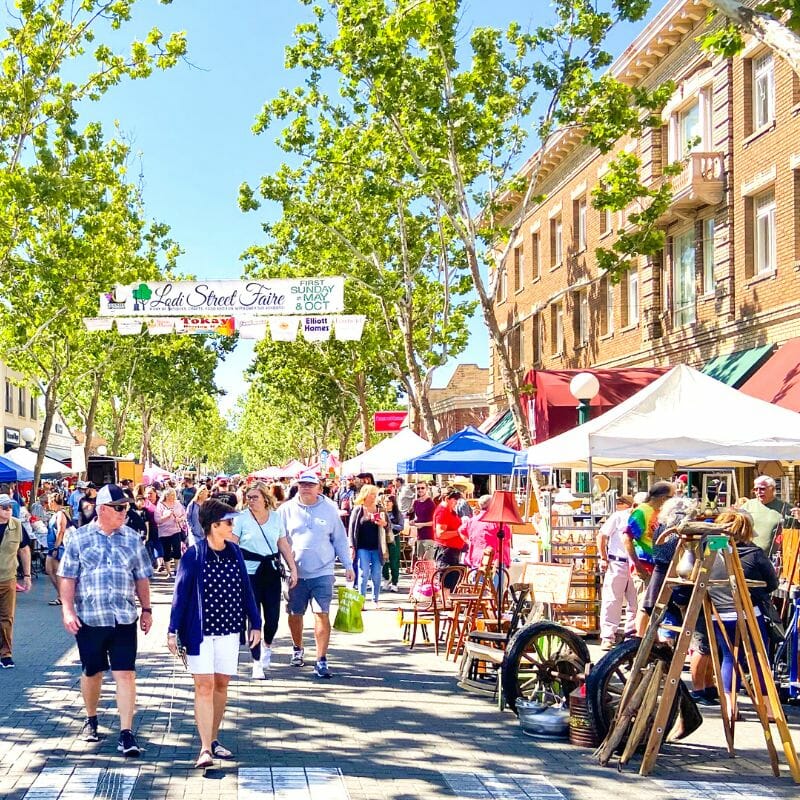 May 7th & October 1st,  8 a.m. - 4 p.m.
The Lodi Street Faire is one of the premier events in the State, attracting vendors from throughout California. The Street Faire takes up a 14-square block area of downtown Lodi. More than 500 vendors participate in this biannual event, selling antiques, arts & crafts, and retail items. While shopping, visitors can satisfy their appetite with their choice of food options serving everything from hamburgers to hot dogs, sausages to tri-tip, Mexican food, Chinese food, Filipino food, and otherworldly cuisine. Plus, no Faire is complete without sweet treats and cold drinks. So, bring the whole family for a day of shopping and fun!
There is a free parking garage located on Sacramento and Pine St. This fills up quickly with vendors early, so best to try street parking outside of barricades.
Our online registration portal for Return Vendors is will be available within a few days for October 1st's event. Please check back at this time to apply.
Prefer to download an application and print? Click the link below. Or you can visit our office located at 35 S School St, Lodi, CA 95240 to pick up an application. We have plenty of options to register!
Drop off your completed application at our office (or) mail to:
Lodi Chamber of Commerce
Attn: Street Faire
35 S. School St.
Lodi, CA 95242
If you are interested in more information, you can email Jenna Haley.